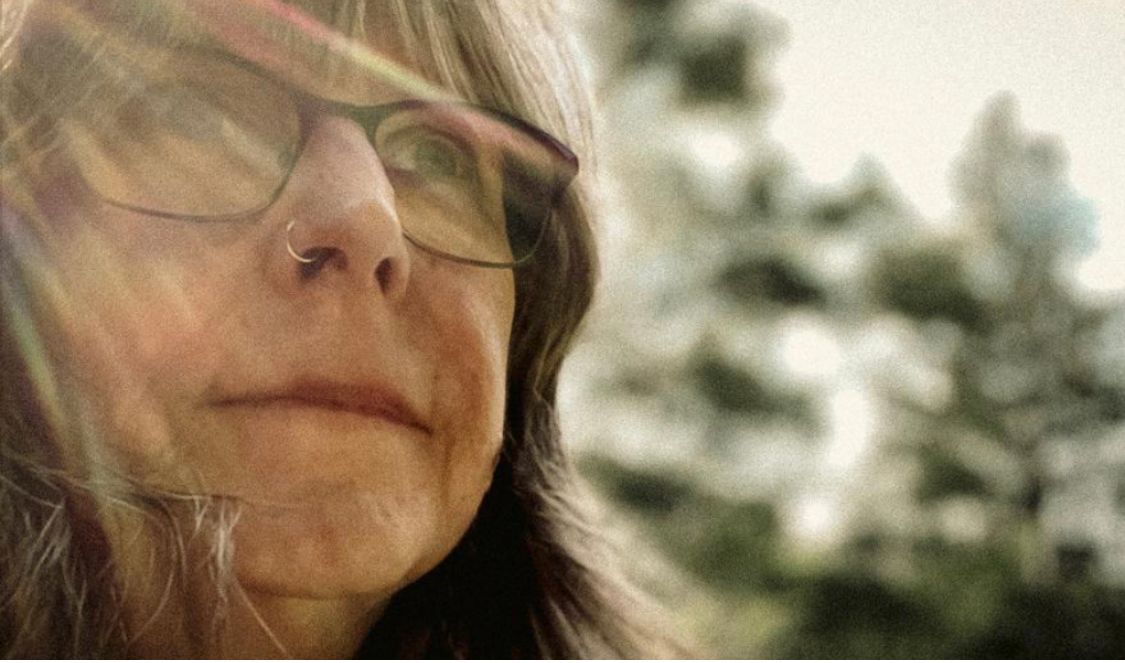 I am so proud of Annie Capps. 
She is an incredible friend, gifted artist (multi-instrumentalist, songwriter, producer) and an inveterate supporter of other artists.  She's about to say some very nice things about me (and to be honest it goes on a bit...(blush)) but the truth is we do have a a love affair of a kind. 
Annie, in addition to being brilliant, has a special gift of bringing people together in a way that makes everybody feel like they've always been together, even if they have only been in each others company for a few moments before she walks in. 
As Director of the Folk Alliance Midwest Region conference, as a solo performer, and with her husband Rod, she has a gift for bringing people together that I admire, emulate, and am thrilled to share with you.  If after reading, you are so moved to support this collection of songs that are especially relevant in this world we find ourselves in, please join me and Robin in doing so. 
You can hear the title song of this wonderful upcoming album here:  https://youtu.be/qmQaXuDF1rM and support the project here:  https://www.kickstarter.com/projects/anniecapps/how-can-i-say-this-by-annie-capps!  
With no further ado, Annie Capps.
Let me start by saying, Jenny Bienemann is one of those other-worldly spirits who lights up a room and has the power to make you feel as if you're the most special person on the planet to her and that means a lot. She's a beautiful human, inside and out AND an outstandingly creative multi-talented artist. I am a fan. So when she asked Rod and I to be part of her Haiku Milieu songwriting showcase, I naturally could not say no. That's not to say I wasn't worried about how I was going to write a song that was worthy of the standard she set. 
Fortunately for me, this was during a pandemic and despite every awful thing that transpired because of it, I found myself welcoming the quiet and the opportunity for reflection. I belong to a couple of songwriting groups that keep me on my toes and combined with a few virtual songwriting workshops, I was flexing those deliberate writing muscles a bit more than I had been of late. It felt good. Jenny's 'assignment' was to write a song inspired by one of her beautiful Haiku and it came along when I had just started writing a completely different song. I love that about songwriting. If you get out of the way, it can take you places you never expected to go. 
Jenny shared her 3 Haiku books. 2 were big and beautifully artistic and colorfully presented. Coffee table worthy! And 1 was a tiny black and white book called "reckoning". Anyone who knows me won't be surprised when I say that's the one I was drawn to. 
From the beginning .. 
"beware of the doubt 
it will say you are no good 
and you can't do it" 
to the last … 
"Don't let them get you 
to step out of your own light 
when they can't find theirs" 
And in between … 
"Double negative 
There's no time your voice is not 
Inside my head" 
"I can't find myself 
in anything that's more real 
than this ache for you" 
Every single 5-7-5 line spoke to me. ME. How do you pick just one? 
"How Can I Say This", on the surface, may come across as a break up song and I generally resist telling people what a song is about, preferring to let them find their own meaning. 
But Jenny asked me to write about this song. I guess it IS a breakup song. I'm breaking up with all the voices in my head that are not necessarily my own. Those of my parents, a co-dependent relationship, society, and yes, my much younger self. All of the ones that creep in and tell me I'm not good enough. So when people ask me who this is "about", it's me. It's always me. =) 
Allow me a little sidebar quote from RuPaul "If you can't love yourself, how the hell you gonna love somebody else?" 
I try to love myself. I really do. Every flawed and ferocious edge, but there remain pieces of me that I'd give anything to destroy. The pieces that let what others think of me dictate how I feel about myself. Ultimately, the "you" in the song are those parts of me I wish I could shed. 
And yes, it is also about the many "You"s in my life who have, purposefully or not, given me reason to doubt myself, stifle my dreams and convince me I couldn't be who or what I wanted to be. 
At 61, I'm able to look back on my life with some perspective and realize that I actually did a lot of those things I didn't think I'd have the guts to do despite those voices. And though I made a LOT of foolish and painful choices along the way, I am who I am because of (or despite) those choices and what's to be done but embrace it all. 
I couldn't be more grateful to Jenny for inspiring me to write this song. Just in the writing, I have grown and learned more about myself. Even more than that, it became the catalyst for this whole project that ultimately had no choice but to be named for the song "How Can I Say This?"