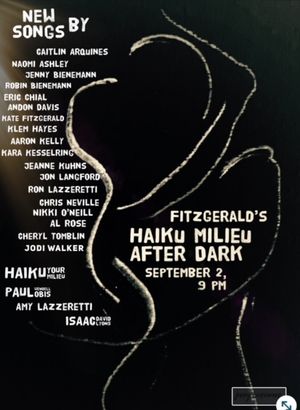 Next Friday, 9/2, 9 pm! The long-awaited Haiku After Dark concert at FitzGerald's is almost here!  We'd love it if you can join us.  
Back in 2019, to celebrate the release of the first Haiku Milieu book, "Haiku Milieu, Photo and Haiku For You, Wherever You Are," I invited 20 songwriters to write a song inspired by any image and haiku.  
The rules were simple: there were none.  Simply look at an image, read a haiku, and follow where it leads via your own creative process.  
Fast forward three years: there are more than 220 songs inspired by Haiku Milieu, written by artists across the country, performed at eleven concerts so far. You can find these songs at the YouTube Haiku Milieu channel.  
At these shows, we share a guitar and a microphone.  I introduce the song by reading the haiku, and with that, the artists sing the song.  It keeps the show moving, and all of our ears fresh!  
In July, we pioneered the idea of having our new songs accompanied by a rhythm section.  It was SMASHING!    
For this Friday, we will be joined by the crackerjack trio of Steve Doyle, Steve Hashimoto, and Lance Helgeson (tip of the hat to Al Rose, as these three are Al's regular band.)  The pictures you'll see are from our rehearsal.  You see songwriters getting to know each other and the songs, finding the notes and the chords and also the points of connection to the music and each other that make these songs come to life.  
If you have been able to experience the Haiku Milieu concerts in person or via video, you will know many of these artists and that is part of the joy - seeing what people you already adore come up with.  You will LOVE what you hear from Robin, Jodi, Ron, Naomi, and Jeanne Kuhns from Door County among many regular contributors.  
You are likely familiar with names like John Abbey, Andon Davis, Kara Kesselring and Chris Neville, some of the most in-demand live and session players in Chicago and well beyond.  It is especially fun to see these artists, who spend so much of their lives supporting other people's music (!) be supported by this incredible band.  
And then there are artists who are new to the Haiku Milieu-niverse, like Caitlin Arquines, Aaron Kelly, and Nikki O'Neill.  These powerful new voices are bringing something really special to this endeavor.   
Here's who's all involved: Aaron Kelly, Al Rose, Andon Davis, Caitlin Arquines, Amy Lazzeretti, Cheryl Tomblin, Jeanne Kuhns, Jodi Walker, John Abbey, Jon Langford, Paul Wendall Obis, Kara Kesselring, Naomi Ashley, Ron Lazzeretti, Nikki O'Neill, Isaac Lyons, Robin Bienemann, and Chris Neville. 
I could talk about this forever!   But you really should join us on Friday and see for yourself. :) 
Meanwhile, enjoy this "sneak peek" at our rehearsal - and come by on Friday!