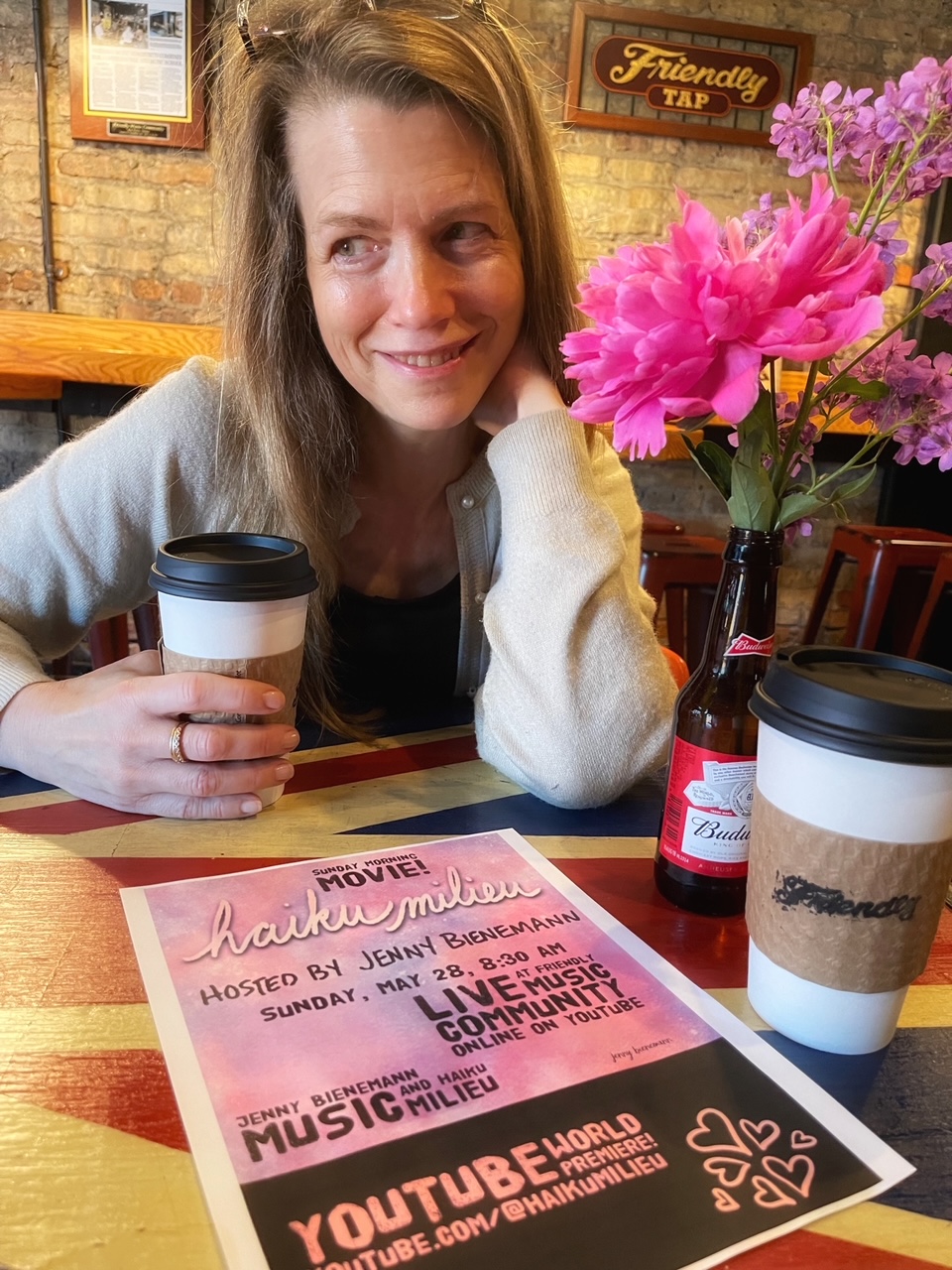 What do you get when you ask songwriters to write a song to a haiku? A BUNCH OF NEW SONGS, silly!

TOMORROW, Sunday, May 28 at 8:30 am, we'll watch the First-Ever Haiku Milieu Sunday Morning Movie at Friendly's on the big screen. You can join us in person, or from the comfort of your own home.

How it works is this: each artist chooses one of my haiku and images writes a song to it.

The audience has a bird's eye view of the process from inspiration to completed song. It is THRILLING to witness how one work of art gives rise to another, to contemplate how completely different works can be forged of the same initial impulse, and to witness the power of creativity to connect us with the world and each other.

Featuring video made especially for this show as well as performance videos from the Golden Dagger Haiku Milieu show, the Sunday Haiku Milieu Movie features new songs from long-standing Haiku Milieu contributors and newbies alike, many performed for the very first time in front of a live audience.

And being as it is the first time for many of these songs, do some of us forget our words? (ahem, I'm raising my hand here) and/or the order of the verses? (slight cough, downward glance, hand back in air) OF COURSE!! That's part of the fun.  These are professional musicians who have been gigging for a LIFETIME and who have THE VERY SAME JITTERS we all get when doing something new! 

That is part of the magic of the Haiku Milieu show: putting ourselves on the line, alongside others doing the same thing in a different way, working at the highest of levels with a goal of bringing this piece of ourselves to the audience where it may do them, and us, some good. 

I hope you'll join us.

Artists include Ashley and Simpson, Phil Angotti, Caitlin Arquinnes, Naomi Ashley, Robin Bienemann, Ralph Covert, Jason, Braun, Jonas Friddle, Ron Lazzeretti, David Zerlin, Shelly Miller, Matthew Pittman, Haiku, ukulele, Duke, Blue Stevenson, Victoria, storm, Heather Styka, Cathie, Van Wert, Emily White, Jon Williams, Josh Piet, Jason Batchko, Haiku Your Milieu with Amy Lazzeretti and Marilyn Rae Beyer, and of course, yours truly. 

See you at the show!